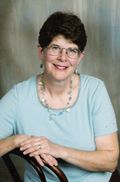 About Karen Herrmann
Born Karen Mary Brickner in 1950, into a good Catholic home, I, with my 5 younger sisters, grew up in Whitehall, a suburb of Pittsburgh, PA. I attended St. Gabriel's parish and grade school and St. Francis Academy, an all girls high school ˝ mi. from home. (We girls pictured the Sisters looking over at our house with binoculars, wondering how many of us they would get, as the academy was connected to a convent!!) Somehow, I felt if you got too close to the Lord that meant you would have to be a nun.
That idea changed in Sept.,1967, when, as a result of my upbringing, openness to God and His amazing grace, I invited the Lord into my life in a serious way and asked to experience the Holy Spirit that I received in Baptism and Confirmation. My prayers were answered and thus began a journey that has been exciting and challenging at the same time, but always with the knowledge of the Lord's presence and help.
I got married at 19, and though I had been working in the Pittsburgh area, at 22 when I had my first child, I became a stay at home mom and loved it. In 1975, now with two children, we moved to Steubenville, OH. As a teenager, I had bought a guitar and began playing at the prayer meeting I attended as well as for a weekly Mass in Pittsburgh, but took a break upon moving to Steubenville.
When I was in my early 30's, with three children, I went through a divorce and eventual annulment. Steubenville was home and I chose to remain because of the support I had from a group of Spirit-filled Catholics of which I was a part. The Community of God's Love (communityofgodslove.org), established in 1977, as a lay association of the faithful is still thriving today, and our family is still involved. The relationships formed there lifted me up and were an encouragement to keep on when things were very hard. They encouraged my faith in the Lord and because of that I was able to continue to be the mom my kids needed and to also be used by the Lord in service. In my parish when the organist wanted me to come to choir practice, I told him, "I think my gifts lie in other areas," knowing full well I couldn't survive a diet of organ music and choir practice. I have no problem with the organ or choirs but that was not where I knew the Lord wanted me to serve in the Church. I knew I had a gift and grace and so I began to lead a guitar Mass. (In fact, I am still playing and leading a contemporary choir in my parish…30 years later… and still as a volunteer!!!! I also have been able to use a lot of my music in parish liturgies over the years.)
Throughout my divorce I continued to play, find time for fellowship and trust in the Lord for my future. Then in my late 30's I married a widower, John Herrmann, almost 11 years older than me. His first wife, Regina, died of MS and he was raising his four kids while teaching physics at Franciscan University of Steubenville. His kids were a little older than mine and when we were married on the feast of St. Cecelia (Patroness of Musicians) we were a blended family of 9….. until 9 months later we were 11, when our twins were born. I truly felt like Sarah in the Old Testament when she was told she would have Isaac! She laughed and so did I!!! Then the marriages began and the grandchildren started to come, and now we are a family with 35 grandchildren.
So, God has blessed me and us greatly and for that reason only can I sing. Without Him I would have nothing of worth to sing about. John is an upright bass player and for about 5 years in the late 90's we joined with long-time friend, Fr. Jim O'Connor, a pastor in WV, doing concerts, mostly there but venturing to other states including Maine and Florida. Fr. Jim is a prolific composer, singer and piano/keyboard player (check his site and see!) as well as a wonderful priest, and together we made an interesting trio…a mom, professor and a priest, each with a testimony of God's love, grace and sustaining power. With our twins in tow, over 70 concerts, which included songs, stories and prayer, ministered to thousands of Catholics and other Christians as well. Our concerts were recorded on cassettes and our ministry continued through that means as well, until our family life demanded we go our separate ways, although we do talk of getting together again….in God's time.
In 1997, John and I became book publishers, taking the name Bon-Fire Press, and publishing my Come, Holy Spirit, which is a whole other story!!!
In 1998, a group of women came together to provide music for the Steubenville Women's Conference at Franciscan University. We became Living Praise, an 6-member worship team and have played for diocesan women's days, conferences, five International Magnificat (magnificat-ministry.org) Leaders Conferences in New Orleans, Magnificat breakfasts, festivals of praise, worship workshops and in May '08 we ministered in St. Croix, VI. God is good! All the time! All the time! God is good!!!
Our daughter-in-law, Natalie Burt, has co-produced several CD's of Catholic Kids Worship and christmusickids.org is a site to check. We share in the desire to have great music available to encourage our kids and young people in their praise and worship of God.
As the years have passed there have been many different opportunities to minister musically. With our twins going on mission trips I have had chances to share my music through them in Belize. Our daughter, Katie, is a missionary in Haiti working with orphans through Movin' With The Spirit (mwts.org). Her presence there during the earthquake inspires our hearts and also inspired three songs on Show Your Power. Events with Living Praise have provided more international contacts for sharing my music. It is a new day and age and the web seems to be the next step to take to minister to folks through CDs and I look forward to what God has in store. I have some ideas but it's up to Him to bring those inspirations to fruition. Life as a Catholic Christian is certainly not dull!!
May you be blessed by the Lord and may the Holy Spirit gift and grace you beyond your wildest imaginings!!!